Peri-Peri Charcoal Chicken
Casual Dining
•
Market! Market!
About
Peri Peri refers to African bird's eye chilis, which the restaurant use for their customiz Read More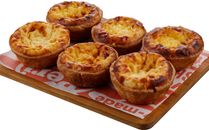 Overview
M-F: 10AM-8PM; Sa-Su: 10AM-9PM
Cash; Credit Card; Debit Card; Visa; Mastercard
Available Services
Delivery
Keep it hassle-free and safe. Have your meal delivered from the branch closest to you!
Pick up
On the way anyway? Skip long lines and go for the pick up option!