Lots'A Pizza
Food Stall
•
Sacred Heart Bldg.
About
"We serve mouth-watering pizza designed to best fit the Filipino taste, with a wide range Read More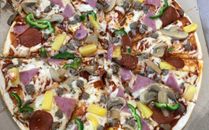 Overview
Pizza; Filipino; Food Stall
Available Services
Delivery
Keep it hassle-free and safe. Have your meal delivered from the branch closest to you!
Pick up
On the way anyway? Skip long lines and go for the pick up option!